Read the QR code and pay with
your smartphone.
With pixiv PAY, you won't need to take out your wallet or handle annoying change.
Register QR code
Use the register and show the QR code to the buyer.
The seller generates a QR code
and shows it to the buyer.

Have the buyer
scan the QR code.

Once the payment is confirmed
hand the goods over to the buyer!
Item QR Code
Print a different QR code for each item and display it on your table.
The buyer scans the QR code
with their smartphone.

After checking the order details,
tap the "Pay" button.

Once the payment is confirmed,
show the screen to the seller!

You can choose your preferred payment method, incl. credit cards and convenience store payments.
Register function
By allowing you to register, record and manage sales like you would do
with a "register", we created a payment environment that makes transactions more convenient and easy.
It registers both QR payments
and cash payments.
The "register function" also works with cash payments. All payments will be added to the total.
※Sales from QR code payments will be transferred within 5 business days on transfer request.
Transfer Fees

JPY200

JPY30,000 or more: JPY300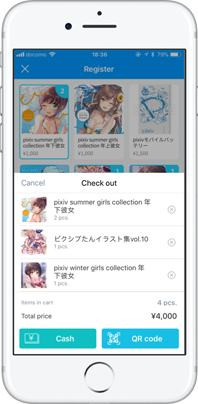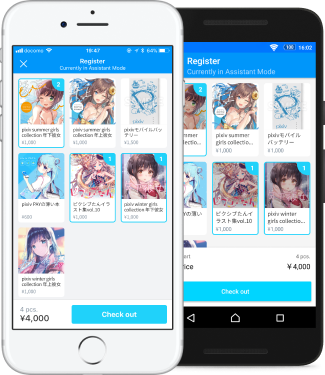 Use the "assistant function"
to leave the distribution to your sellers.
Even when you're not at your booth,
you can share your register with your sellers and leave the accounting work to them.
Many features
to make events even more fun!
pixiv PAY doesn't only make smartphone payments easier.
Connect with your fans and easily check your profits.
So many ways to enjoy pixiv PAY!
Send messages to the followers and users who have purchased your works.

Search for circles that will accept payments through pixiv PAY in the upcoming events.

Enjoy the voice of our original character Pay-tan whenever you make a purchase (16 tracks total).
Banner-flag & logo data for printing
We prepared some useful resources for your next event. Print them out and use them!